Security Guards / Guarding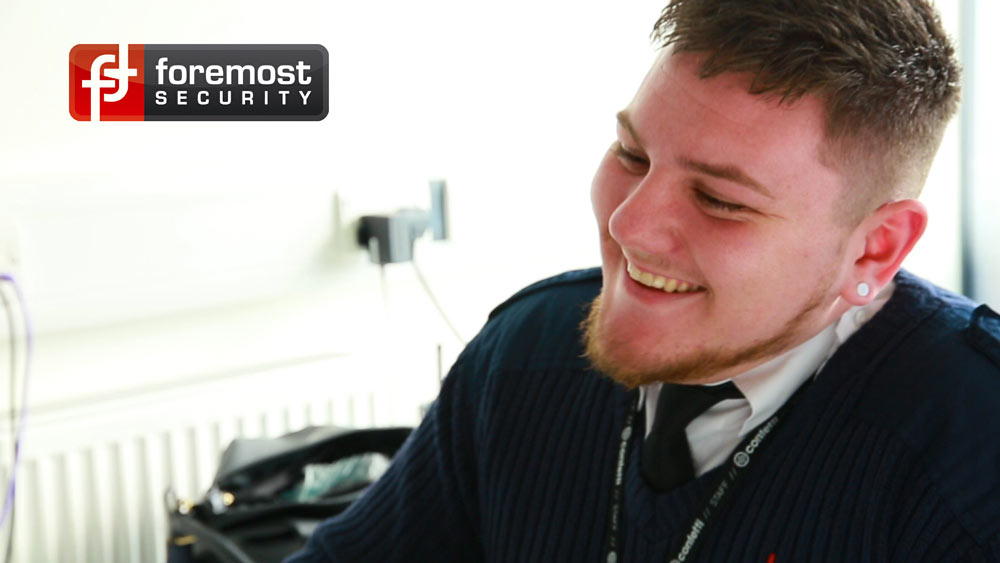 Static Security Guards & Manned Guarding
At Foremost Security we can provide you with static manned guarding, gatehouse and concierge services throughout Leicestershire, Derbyshire and Nottinghamshire.
We have over 20 years of experience in providing security and manned guarding services, so you'll be in good hands.
What is 'guarding'?
Guarding involves a trained uniformed Static Security Guard being stationed at your business. At Foremost we offer short term and long-term contracts, so you can have a guard 24 hours per day, 7 days a week for the whole year, or you can have a guard for a few hours a week.
By having a guard stationed at your business it means someone is there to respond immediately and deter potential threats. This will allow your employees to work alone or at night with the knowledge there is security there to keep them safe and give you peace of mind. The licensed guards are fully trained to BTEC levels in all aspects of security and also have NVQ qualifications in security provision.
Professional Image for Staff & Visitors
Low cost security presence
Security Accredited
We are accredited as a Security Industry Authority (SIA) Approved Contractor for the provision of manned guarding services and all our guards are fully SIA Licensed.
We are also proud to have been awarded a place on the ESPO framework 347_ 18 – Security Services.
The services provided by the security guards are tailored to suit individual company needs to the highest of standards. Our guards focus on customer service, personal awareness and observe security issues from criminal activity to fire, flood, gas and health & safety.
Insured Security Service Provider
Here at Foremost, we are fully insured to meet the needs of our customers.
We are insured up to £10,000,000 for Employers Liability, £5,000,000 for Public Liability and £100,000 for Professional Liability. Securing your premises using static guarding is the most effective way to reduce security risks. It can also have a positive impact on your insurance costs.
Detailed Reporting
Our guards are fully trained in security and will handle any situation with ease. Our guards ensure that checkpoint swipes, detailed reports and regular contract reviews are enforced to keep you aware of the potential risks and responses.
Professional Image & Promoting Safety
Knowing that you care enough about security at your premises to invest in it, gives everyone visiting or working at your site, confidence in you.
Our guards: Give a rapid response and marshalling in emergency situations, turn off unnecessary lights and equipment, can either lock up or open your premises and can supply out of hours monitoring of pumps and machinery
Cost and Time Effective
The services and tasks assigned to the security guards are highly flexible and are agreed to provide the maximum benefit for the minimum cost & hassle. Tasks assigned to security can include: reception/concierge duties, issuing visitor passes, searching personnel, visitors, vehicles and lockers.
Peace of Mind
Our security will give you peace of mind whilst you're away from the business, due guards operating at any hour. When the criminals see a static security lodge at your premises and security guards patrolling, they will look elsewhere for a lower risk opportunity and in most cases, won't return.
Can our Guards provide security to your business?
Guarding is an ideal solution for businesses of all sizes operating in any sector. We provide manned and static guarding for businesses operating in Derby, Leicester and Nottingham.
Keyholding
Keyholding involves a company or trained personnel keeping hold of a spare key to your building.
LEARN MORE
Lock & Unlock
More than just a keyholder you completely trust to carry out daily locking or unlocking duties.
LEARN MORE
Mobile Patrols
Keep your premises safe and secure, even if you're not there - a visual deterrence to thieves and vandals.
LEARN MORE
Guarding
Trained uniformed Static Security Guard stationed at your business. 24 hours per day, 7 days a week for the whole year.
LEARN MORE
Meeting your insurance / landlord needs and protecting your empty properties. Giving you peace of mind.
LEARN MORE
Need to talk to someone about protecting your business premises.
Serving Your Local Area
Head Office
Unit F, Acorn Park
Lenton Lane Industrial Estate
Nottingham, NG7 2TR, UK
Call Us
0115 911 0213
(24 hrs)